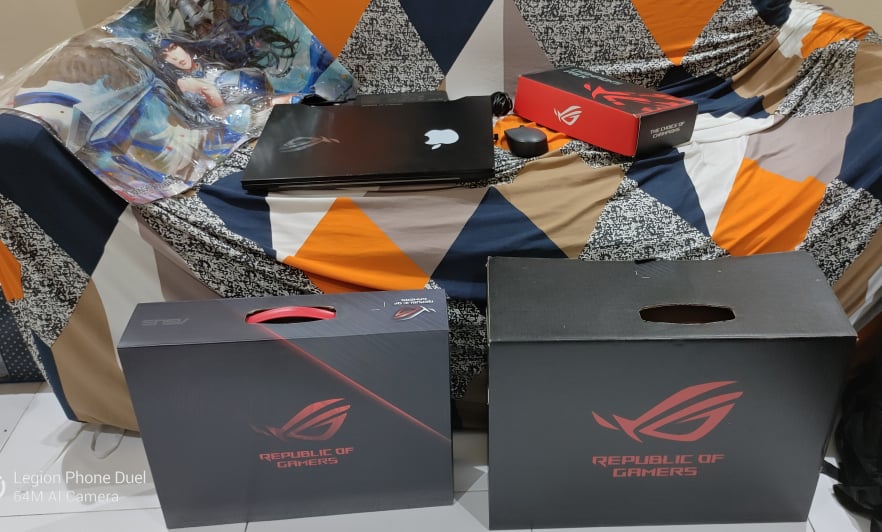 You can view this video to check the performance.
Stock: One (1)
Price: Php 60,000.00
Upgraded Specs:
☑️ 32 GB RAM
☑️ 256 GB SSD
Basic Complete Specs check this link.
Processors: check pics 🖼️
Video Card: check pics 🖼️
☑️ Windows 10 Licensed
☑️ Mini Display Port – Working
☑️ HDMI Port – Working
☑️ 3 USB Ports – Working
☑️ LAN Port – Working
☑️ SD Card Reader – Working
☑️ WiFi – Working
☑️ Bluetooth – Working
☑️ Keyboard – All keys working
☑️ Monitor Screen: 144hz Refresh Rate
☑️ Battery (Full Charged): 3hrs minimal activity, 1hr to 1.5hr if playing
Package comes with:
☑️ Charger
☑️ Logitech Bluetooth Mouse
☑️ HDMI Cable (sealed)
☑️ Original Main Box
☑️ Laptop Box
☑️ Mini Box
☑️ Dragoborne Playmat (sealed) Installed Apps ☑️ MS Office 2016 (Word, Powerpoint, Excel etc.) ☑️ Photoshop CS 6
☑️ VLC Media Player Installed Games (17)
☑️ Call of Duty Modern Warfare Remastered
☑️ God Eater 3
☑️ The Elder Scrolls V Skyrim Special Edition
☑️ Battle Realms
☑️ Call of Duty WWII
☑️ Phoenix Wright Ace Attorney Trilogy
☑️ Diablo II
☑️ Tekken 7
☑️ Jurassic World Evolution
☑️ StreetFighter V
☑️ Minecraft
☑️ Final Fantasy X and X-2
☑️ Tales of Vesperia Definitive Edition
☑️ Jump Force
☑️ Valkyria Chronicles 4
☑️ The Legend of Zelda Breath of the Wild
☑️ Far Cry 5 Meetup: MOA (test all you want)
🏧 Shipping/COD: I can do shipping but full payment first thru online banking. For sure buyer, I can provide the whole details of my bank account to prove that this is legit and I can be easily traced. After that, the rider can take the item (with picture) and call the buyer. Shipping fee will be shouldered by the buyer. 🏧
👪 RFS: Need funds for family 👪
Goods na goods ito lalung-lalo na kapag gusto mo madala sa ibang lugar or sa bahay ng friends mo then maglalaro kayo. Portability talaga ang lamang ng gaming laptop versus desktop. 🎮
Recommendation: Bili kayo joystick, especially pag maglalaro kayo ng Tekken 7, Jump Force at StreetFighter V. Recommended ko yung DS4 joystick ng PS4. Pwede naman maconnect yun via cable or bluetooth. 🎮
Pm nyo ako LJGaming kapag may iba pang katanungan.
You may also send email to ceo@ljlambino.com